Why I love makeup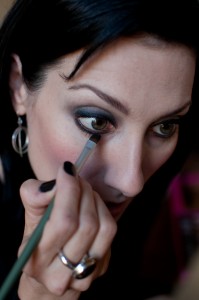 Ever since I can remember, I have been obsessed with makeup. I love that I can change the way I look with makeup.
With one swipe of lipstick my lips can go from pale pink to shimmery fuchsia. With mascara and eyeliner my lashes look fuller and thicker. With different shades of eye shadow my hazel eyes really pop.
The right bronzer can make it look like I've spent the day at the beach being kissed by the sun.
The proper foundation and concealer help me cover flaws and acne (that I can't believe I still have at my age).
Whether I want to create a natural, healthy look or a glamorous, glitzy look for a night out on the town, makeup allows me to create the appearance I want.
Makeup is fun! I never get tired of putting it on, and I'm always excited to try new products and different colors.
I created a short video that shows how I can transform the way I look with makeup. The video shows what I look like with no makeup and how my look changes with each step of the makeup process.
*Just a side note, the eyeliner on my upper lids is tattooed so even without makeup it still looks like I'm wearing eyeliner.