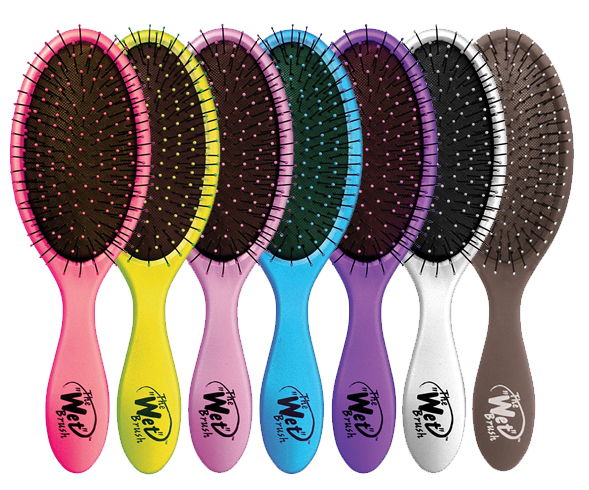 Description:
According to website, The "Wet" Brush, also known as the healthy detangling after shower brush, is  the world's best detangling brush. With specially formulated IntelliFlex™ bristles, The "Wet" Brush eliminates all tugging, tearing, pulling and ripping.  It provides healthy brushing and detangling, creating the perfect transition from wash to style!
Used on wet or dry hair, The Wet Brush quickly and painlessly detangles even the thickest, most stubborn hair thanks to its revolutionary bristles. The Wet Brush's IntelliFlex bristle is designed to be ultra thin and flexible, yet still have rapid recovery memory to instantly bounce back to its original form.
Recommended Usage:
Perfect for use in the shower, after a shower, at a salon, on a beach or on children who cringe at the sight of a hair brush.
Cost:
$14.00
Review:
My daughter and I both have very fine hair that gets tangled easily while we sleep and after a shampoo. During my last trip to the salon, I noticed a display for The "Wet" Brush that said "the best detangling brush ever!" I had to try it.
I have been using The "Wet" Brush on both of us for the last few weeks. It is great for wet or dry hair, although, I would not recommend this brush for blow outs that require more tension to create a specific look.
Because the bristles are so soft and flexible they detangle hair much easier than a standard brush. Depending on the tangles, knots, and clumps, some tugging is still required to get the brush through the hair; however, I have noticed significantly less hair breakage and hair loss when I use The "Wet" Brush. Because some tugging and pulling is needed, even with the IntelliFlex™ bristles, my daughter still lets out the occasional "ouch!"
Is it the world's best detangling brush? I can't say for sure, but I can say that it does eliminate (not all but) almost all tugging, tearing, pulling and ripping.

Eliminates all tugging, tearing, pulling and ripping
No
(Eliminates almost all…)
Provides healthy brushing and detangling
Yes
Overall Pretty Proof Rating:


Pretty Proof gives The "Wet" Brush a 4 out of 5 crown rating. There is still some tugging and pulling with The "Wet" Brush, but this brush does detangle hair without the pain and pulling of other brushes.