Mornings are stressful with so much to do and so little time. There are lunches to pack, breakfasts to make, and traffic to contend with. Then there's the challenge of trying to get a comb through your child's bedhead. What to do? Suave Kids Twirlin' Swirlberry Soft & Smooth Detangler to the rescue.
Brand:
Suave Kids®
Product:
Twirlin' Swirlberry Soft & Smooth Detangler
Description:
Suave says their Soft & Smooth Detangler tackles the toughest knots and tames flyaways and frizzies. This super duper detangler makes hair more manageable, leaving it extra soft, smooth, and shiny. Plus it is hypoallergenic, tear-free, and alcohol-free.
Recommended Usage:
Use on wet or dry hair. Shake it up before using. Spray it on, give it a comb, And no more tangles. Do not rinse.
Safety tip: this product is not for use on infants or toddlers, and should be used under adult supervision.
Ingredients:
Water (Aqua), Propylene Glycol, Polysorbate 20, Amodimethicone, Fragrance (Parfum), DMDM Hydantoin, Cetrimonium Chloride, PEG-2 Oleammonium Chloride, Tetrasodium, EDTA, Polyquaternium-10, Trideceth-12, Citric Acid, Iodopropynyl Butylcarbamate
Size/Cost:
8.5 oz. – $1.88 – $3.35
Review: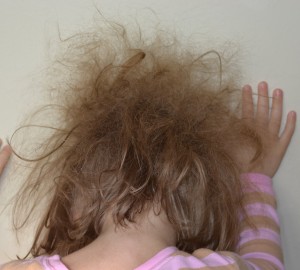 My daughter has very fine, straight hair. We bathe her almost every night, and every night we wash and blow dry her hair. It looks perfect. But, somehow while that child is sleeping something crazy happens to her beautiful hair. I don't know what she does in her sleep to create what appears to be a rat's nest, but every morning it is there. And, every morning it must be dealt with in a manner that doesn't lead to screaming and crying. (Because let's be honest, this bedhead look is only appropriate for "80's Rocker" Day, and they don't have too many of those in Miss Beth's preschool class.)
Thank goodness for Suave Kids Twirlin' Swirlberry Soft & Smooth Detangler. I spray it all over her hair, but focus mainly on the tangles and knots in the back of her head. I cross my fingers and start brushing. Of course, there are a few "ouches" and "Mommy that hurts" along the way, but we get through it and her hair looks beautiful.

| | |
| --- | --- |
| Tackles tough knots | Yes |
| Tames flyaways & frizzies | Yes |
| Makes hair more manageable | Yes |
| Leaves hair soft, smooth, and shiny | Yes |
Overall Pretty Proof Rating:


Pretty Proof gives Suave Kids Twirlin' Swirlberry Soft & Smooth Detangler a 5 out of 5 crown rating and recommends it to any mom looking to tame her child's bedhead.
Have you ever used this product? Tell us about your experience.