Brand:
Spongeables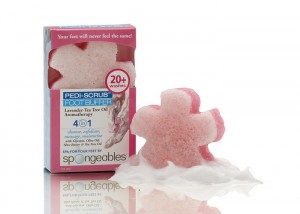 Product:
Pedi-ScrubTM Foot Buffer
Description:
Spongeables' Pedi-Scrub is a double-sided sponge infused with glycerin, olive oil, shea butter, tea tree extract, and lavender aromatherapy. With a soft side and a scruffy side, Spongeables claims the Pedi-ScrubFoot Buffer will cleanse, exfoliate, massage, and moisturize feet.
Recommended Usage:
Get Pedi-Scrub completely wet to soften and release ingredients. Use soft side to cleanse and moisturize; flip over to scruffy side to exfoliate and massage away aches, pain and tension.
Ingredients:
Glycerin, Aqua, Propylene Glycol, Sodium Stearate, Sorbitol, Sodium Laureth Sulfate, Sodium Laurate, Olea Europaea (Olive)Fruit Oil, Fragrance, Butyrospermum Parkii (Shea Butter) Fruit, Sodium Chloride, Melaleuca Alternifolia (Tea Tree) Leaf Oil, Stearic Acid, Lauric Acid, Sodium Thiosulfate
Size/Cost:
2 OZ. – $4.32 – $5.99
Review:
My poor feet. I used to treat them so well. I'd give myself a nice at-home pedicure every two weeks or splurge and go to a salon to have it done. The soles and heels of my feet were soft and manicured… pretty and polished. That all changed when my daughter entered my life. I just don't have the time and luxury of pedicures any more. Needless to say, my feet have suffered from this neglect.
So I was very intrigued by Spongeables Pedi-Scrub Foot Buffer. I thought if I can do something nice for my feet as part of my daily shower routine for less than six dollars and see results, I'm in!
I kept the Pedi-Scrub in my shower and used it every day until it would no longer lather. It lasted approximately a month so I got more than 20 washes out of it. The smell was pleasant and it felt good. It left the skin on my feet feeling clean, soft and moisturized.  I skipped putting lotion on my feet, which saved me time. (Bonus! Time is so precious. I'll take an extra minute anywhere I can get it.)
The down fall of this product is that the scruffy side is not capable of exfoliating thick, dry callused skin. It may be possible to remove the top layer of dead skin with the Pedi-Scrub, but this product does not have the abrasiveness or grit to slough away rough, callused areas like a foot file. Pedi-Scrub is the product that will help you maintain soft, beautiful feet, but you'll have to use another product initially, like a foot file, if you have calluses.
Pedi-Scrub comes in two scents – Lavender-Tea Tree Oil Aromatherapy and Citron-Eucalyptus Aromatherapy. I purchased the Lavender version and enjoyed the scent.

| | |
| --- | --- |
| Deodorizes and keeps feet fresh while improving skin integrity |  Yes |
| Lasts 20+ washes |  Yes |
| Gently removes even the hardest skin without dangerous cutting or filing |  No |
Overall Pretty Proof Rating & Recommendation:


Rating: 4 Crowns
Pretty Proof recommends Pedi-Scrub Foot Buffer for anyone looking to keep their feet soft, clean, and moisturized with a daily mini foot spa courtesy of Spongeables.