Love the shine, durability, and smudge-free benefits of a salon gel manicure or pedicure, but hate the cost and time spent at the salon? Read on girlfriends…
Brand:
Sally Hansen
Product:
Salon Gel Polish Starter Kit in Wine Not
Description:
According to the Sally Hansen packaging and website, "Professional salon results at home have never been so easy."  They claim their Gel Polish Starter Kit will save time and money, provide up to 10 salon gel manicures at home, & wear up to 2 week. The LED lamp will cure (set) your manicure to a solid, high-gloss finish with zero dry time.
Sally Hansen Salon Gel Polish Instrustions:
1) Apply base coat – cure for 30 seconds. 2) Apply color – cure for 30 seconds (then repeat with 2nd coat). 3) Apply top coat – cure for 30 seconds & wipe with nail cleanser pad. Done!
Salon Gel Polish Starter Kit Includes:
1  LED Lamp
1 Gel Base Coat
1 Gel Nail Color
1 Gel Top Coat
10 Nail Cleanser Pads
Acetone Remover
Cuticle Stick
File & Buffer
Instruction sheet
Size/Cost:
Starter Kit – $64.97 – $69.99
Review:
I have treated myself to several gel manicures and pedicures since learning about gel polish, and I love the results – beautiful shine and extended wear. But, the cost of the service and finding the time to go to a nail salon has precluded me from regularly treating my nails to this little luxury.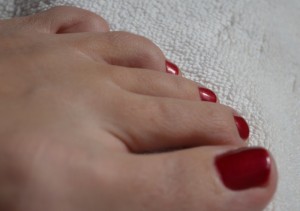 Then I discovered Sally Hansen's Salon Gel Polish Starter Kit. It comes with everything you need for a perfect gel polish manicure or pedicure at home.
I have used it several times to give myself a gel pedicure, and every time my pedicure has lasted three weeks or more without chipping. Even when I stubbed my big toe and split my nail, the gel polished prevailed. With regular polish if I had to trim my nail for whatever reason that meant the end of the polish on my nail because the regular polish would start cracking and flaking. But, not Sally Hansen's gel polish. I was able to trim my split nail without cracking or chipping the gel pedicure. I couldn't believe it.
Removing the gel polish is very simple. I put some of the acetone remover on a small piece of cotton for each nail and wrapped each nail in a small piece of foil. I set my timer for 15 minutes. When the timer went off I looked at each nail. The polish came off most of my nails without me having to use the cuticle stick to push it off. There was some polish left on my two big toes so I just put the acetone soaked cotton and foil back on for a few more minutes and then it came off without any difficulties.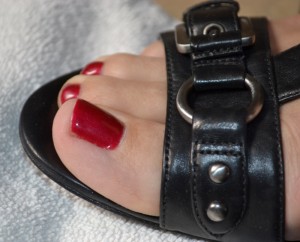 My only hang up with this product, which isn't a big one at all, is the amount of nail cleanser pads included. Only 10 are provided. I used two each time I did my nails – one for each foot. I found that is is easier and quicker to do all of the steps for one foot start to finish and then do the other foot. But by the time I was finished with the second foot, the nail cleanser pad I used on the first one was dry so I needed to open another one. Additional pads can be purchased separately for approximately $5.00 for 20 pads.
Just a few tips with this product:
Remove any access polish from your cuticles and surrounding skin before curing each coat.
Do not buff, pick, or peel off the gel polish. This will weaken your nails. Use the acetone remover as directed to remove polish.
Do not touch your nails between each step. Your nails will be tacky so touching them may leave imprints.
Just an FYI – I rarely paint my finger nails because they are short and paper thin. Not to mention, the nails themselves peel, making it hard to keep polish of any type on for more than a day or two. Therefore, I chose not to test this product on my finger nails.

| | |
| --- | --- |
| Up to 10 gel manicures per kit – great value vs. the salon | Yes |
| Up to 2 week wear | Yes |
| No Chips | Yes |
| No Dry Time (Cures in 30 seconds) | Yes |
| Flawless mirror shine | Yes |
| Easy removal | Yes |
Overall Pretty Proof Rating:

Pretty Proof gives Sally Hansen Salon Gel Polish Starter Kit 4 out of 5 crowns and recommends this product to anyone who wants all the benefits of a gel manicure or pedicure at home.
Have you ever used this product? Tell us about your experience.