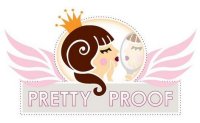 FOR IMMEDIATE RELEASE
February 1, 2013
Pretty Proof Launches New Blog, PrettyProof.com, Devoted to Validating Beauty Product Claims
ATLANTA, GA – Pretty Proof is pleased to announce the launch of a new blog, PrettyProof.com.
The primary goal of PrettyProof.com is to validate which skin care and beauty products live up to their claims. The site is unique in that it is devoted to cutting through the marketing and advertising hype surrounding today's beauty products.
Pretty Proof is the brain child of former marketing executive, now stay-at-home-mom and beauty fanatic, Heidi Koffler.
"We are bombarded with ads, packaging, and commercials promising us miracles – a healthy glow, smoother skin, shiny hair, longer nails, etc. The list goes on and on. But do any of these products actually work? How do you know which one to choose when they all claim to do wondrous things? Do the more expensive items work better than the cheaper versions? I want to know, as I'm sure many other women do as well," says Koffler. "So I decided to create a site and blog about my experiences."
"I believe if a product works as it claims, the pretty proof is in the mirror," says Koffler.
Koffler anticipates that PrettyProof.com will become a popular destination for those interested in knowing which beauty products perform as advertised.
Visitors to the site can subscribe to the Pretty Proof newsletter and receive email updates when new product reviews are posted and/or follow Pretty Proof on Facebook, Twitter, and Pinterest.
About Pretty Proof Pretty Proof is a unique beauty product review site devoted to cutting through the hype. Our philosophy is that when a product works as it claims, the pretty proof is in the mirror. We review one product at a time to validate which ones live up to their promises. If you want to know which skincare and beauty products actually work and which products are worth the money visit www.prettyproof.com.