It is time to get personal and talk about bikini waxing.
Brand:
Parissa
Product:
Wax Strips for Face & Bikini
Description:
Parissa Wax Strips for Face & Bikini is a mess-free, express hair remover that's ready to use. Zip away unwanted hair on your upper lip, jaw, cheeks & bikini line instantly – keeping skin smooth up to 6 weeks. Small wax strips sized right for the upper lip or small areas around the bikini line.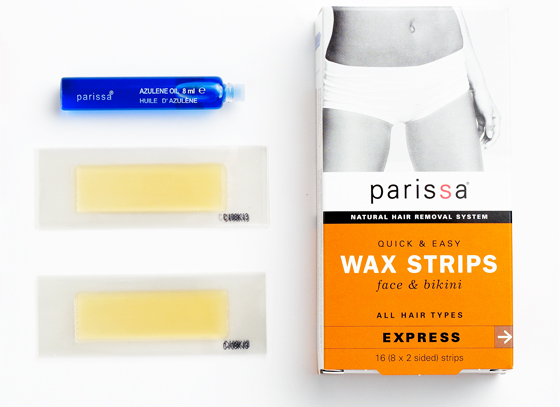 Recommended Usage:
Do a patch test – Always do a patch test on area to be smoothed & wait 24 hours. If no irritation occurs, continue.
Do not clean skin. Skin should not be cleaned before using product.
Warm product. Rub a double strip between your hands.
Separate strips. Slowly separate into 2 strips.
Press on. Smooth down sticky side of Wax Strip firmly onto skin in direction of hair growth.
Zip-off immediately. Hold skin taut below strip with one hand. Use other to grasp lower end of strip & quickly zip-off in opposite direction of hair growth. Keep strip/hand as close & parallel to the skin as possible.
Repeat The same strip may be used several times.
Bikini Line Trim bikini hair to 1/2'' (1cm). Area is sensitive so use small strips. Bend leg outward, stretch skin with one hand & with other hand strip-off against hair growth.
Upper-Lip Keep lips taut over teeth throughout process. Work on only 1/2 of area at a time. Smooth on strip from center to corner & zip-off towards center in one quick motion. Apply pressure to stripped area to minimize discomfort. Soothe & cool area with ice cube.
Underarm Place arm behind head as far back as possible to keep skin tight. Check direction of hair growth as it varies. Work on upper and lower half of underarm separately.

Ingredients:
Wax: glyceryl rosinate (pine resin), ricinus communis (castor) oil, cera alba (beeswax).
Azulene oil: isopropyl myristate (vegetable source), tocopheryl acetate (vitamin E), azulene, menthol crystals.
Size/Cost:
16 (8 x 2 sided) Strips – $10.00
Review:
Swimsuit season is just around the corner and with it comes the need to remove unwanted hair.
I have had professional bikini waxes, used an epilator, and tried at-home hot waxes and wax strips in the past. Let's face it they all hurt. I don't think you can remove hair without experiencing some pain.
Personally, I prefer the do-it-yourself methods when it comes to my bikini area. I leave my eyebrows to the professionals, but my bikini area is very sensitive and ticklish. I find it awkward to be laughing one minute because someone is tickling me and then screaming "ouch" the next because the same person is ripping out my hair. For some reason, when I do it myself, I'm not ticklish and I don't have to worry about feeling awkward or uncomfortable.
Plus, I find at-home hair removal products are more convenient and tend to be less expensive than getting waxed at a salon or spa. In addition, and more importantly, when using an at-home hair removal product I don't have to be concerned about the hygiene of the cosmetologist/aesthetician, the cleanliness of the facility and equipment, or the possibility of spatulas being double-dipped into the wax pot and spreading bacteria.

The latest do-it-yourself hair removal system I used (and have used in the past) is from Parissa and came in the form of 16 wax strips. I started by making sure my hair was the suggested length of ½ inch with use of my electric trimmer. I then rubbed each strip between my hands for a few seconds to warm up the wax. Then came the hard part, I had to inflict pain on myself. Fortunately, the pain doesn't last more than a few seconds, but the results last for several weeks.

Once I was done waxing, I put the included Azulene oil on a cotton ball and rubbed it over the just waxed area. This calmed my skin and removed any remaining wax. I used tweezers to remove a few remaining stray hairs. After that I put a cool cloth on my bikini area. I find this reduces the redness quickly.
The whole process took no more than 15 minutes and cost just ten dollars.
It is important to note that results will vary by individual since everyone's hair grows at different rates.
Please note, that I chose to use the Parissa Quick & Easy Face & Bikini Wax Strips for my bikini area but it can also be used on the face and underarm.

| | |
| --- | --- |
| Quick & Easy | Yes |
| Mess Free | Yes |
| Zip away unwanted hair on your upper lip, jaw, cheeks & bikini line instantly | Yes |
| Keeps skin smooth up to 6 weeks | Results vary, depending on hair regrowth rate of each individual. |
Overall Pretty Proof Rating & Recommendation:


Rating: 5 Crowns
Pretty Proof recommends Parissa Quick & Easy Face & Bikini Wax Strips to anyone who wants to be rid of unwanted bikini or facial hair in the convenience of their own home.
Do not use on skin treated with Retinol A, Accutane, Glycolic Acid or Alpha Hydroxy products.

Do not use on sensitive, sunburned, irritated or injured skin.

Avoid varicose veins, moles and warts.