Brand:
Nue ScienceTM
Product:
Age Repair Serum
Description:
The Nue Science website and product literature states that their Age Repair Serum will yield glowing and younger-looking skin, and that the serum is proven to reduce the density, depth and volume of wrinkles by boosting collagen and elastin production, plumping skin from deep within the dermal layer. It promotes cellular renewal and fills in fine lines at the surface, and protects and repairs the skin from free radical damage.
Recommended Usage:
Apply one to two pumps to fine lines, wrinkles, & large pores on your face and neck twice a day. Allow to dry for best results, apply after Nue Science™ Firming Toner and follow with Nue Science™ Age Defense Moisturizer.
Ingredients:
Click on the image below to view the serum ingredients.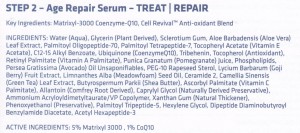 Size/Cost:
15ml 0.5 FL Oz – $109.95
Set cost $159.95 (Set includes Nue Science toner, serum, and moisturizer)
Review:
Nue Science's Age Repair Serum is costly, but it works!  My wrinkles and fine lines were not as deep after using this serum. I am also happy to report that several small bumps, which have been on my face for years, actually went down and could hardly be seen with use of the serum. I was so pleased with this product that I was sad when I finished the trial sample. I scraped every last drop of it out of the bottle so none of it was wasted.
Why does the serum work? It contains 5% Matrixyl 3000 and 1% Coenzyme Q10 (CoQ10).
Matrixyl 3000 is an anti-aging product containing peptides that are able to regulate cell activity to restore and maintain the skin's youthful appearance.
CoQ10, which is a fat-soluble vitamin-like substance present in every cell of the human body, is vital to the production of energy within cells. The human body makes CoQ10 on its own. However, the amount of CoQ10 our body produces is low when we are very young, it reaches its peak in our young adulthood and starts to decline after age 20, even though our body's demand for it increases. When applied topically, CoQ10 can penetrate the cell layers of the skin and may reduce the depth of wrinkles due to photo aging. It has also been shown to protect certain types of skin cells from oxidative DNA damage induced by ultraviolet light.
The main drawbacks with the Nue Science Age Repair Serum, as well as other Nue Science products, are that the products are only available online and that once a customer orders the product(s), they are automatically shipped and charged for the product(s) every month, unless the customer cancels within a certain time frame. But, I could not see where this was clearly stated anywhere on the Nue Science website.

| | |
| --- | --- |
| Plumps the skin | Yes |
| Reduces the density, depth and volume of fine lines & wrinkles | Yes |
Overall Pretty Proof Rating & Recommendation:

Rating: 4 Crowns
The Nue Science Age Repair Serum works and is recommended by Pretty Proof, but I could not give this product 5 stars due to the drawbacks I mentioned above in my review. If you do order from Nue Science, please be cautious of the automatic shipping and charges that will follow with this product.
You can order a free trial starter kit from Nue Science. Simply pay the shipping costs. CAUTION: When you order the free starter kit the company will automatically ship and charge you for product(s) every month, unless you cancel your membership within a certain time frame.