I always find myself looking in the mirror after trying a new product for the first time and hoping for immediate results. Well, here's a product that delivers just that – my skin felt different right away after using Neutrogena's Microdermabrasion System just one time.
Brand:
Neutrogena®
Product:
Microdermabrasion System
Description:
Neutrogena's Microdermabrasion System is an at-home treatment that claims to provide real anti-aging results. The patented massaging system is effective when it comes to fighting the signs of aging. But its randomized microvibrations make it gentle enough to use frequently. Its combination of ultra-fine crystals, mild-purifiers and massaging micro-vibrations work to deliver refined texture and radiance to your skin in just one use, and firmer, younger-looking skin over time.
The Neutrogena  Microdermabrasion System starter kit comes with:
One Microdermabrasion Applicator
One Attachment Head
12 Rejuvenating Puffs
2 AA Batteries
*Microdermabrasion Rejuvenating Puff Refills (sold separately).
Recommended Usage:
Use 3 times per week in place of your regular cleansing scrub.
STEP 1: Attach Puff
Place the Puff blue side up onto the Attachment Head and press with thumbs to securely fix.
STEP 2: Wet Puff
Wet the Microdermabrasion Puff, but do not drench.
STEP 3: Massage Face
Snap onto System Applicator, select speed and gently massage face for 1-2 minutes per facial area.
STEP 4: Rinse Face
Rinse thoroughly with water. Dispose of Microdermabrasion Puff after each use.
Ingredients:
Glycerin, Sodium Laureth Sulfate, PEG-8, Cocamidopropyl Betaine, Decyl Glucoside, Lauryl Methyl Gluceth-10 Hydroxypropyldimonium Chloride, Phenoxyethanol, Methylparaben, Propylparaben, Citric Acid, Fragrance
Size/Cost:
Neutrogena Microdermabrasion System – $19.99 – $22.99
Microdermabrasion System Puff Refills – $13.99
Review:
I will be honest. I have never had a professional microdermabrasion treatment so I cannot compare the Neutrogena Microdermabrasion System to a professional treatment. But, what I can tell you is that my experience with this product has been very positive.
I have tried many other at-home microdermabrasion products and none of them work as well as this one. The ultra-fine crystals and mild-purifiers on the rejuvenating puffs in conjunction with the vibrations of the massage applicator work better than any product that I had to apply with my fingertips. I can really feel the dead skin being exfoliated. I also feel that this system exfoliates more thoroughly than any product applied by hand.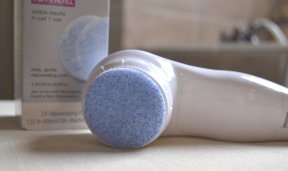 It usually takes me about 10 minutes to complete the entire process because I spend approximately 2 minutes per facial area (forehead, left cheek, right cheek, and chin), as directed. I even go over my lips briefly to exfoliate that skin as well. The one area that is difficult to thoroughly exfoliate with the applicator is my nose. So when I'm done with the other areas of my face, I remove the puff from the massage applicator and go over all of the little curves and bends in my nose by hand. This method works well for me, and I definitely have noticed a difference in the size of the pores on my nose.
Every time I use the Neutrogena Microdermabrasion System my skin feels softer and smoother. I also find that whatever moisturizers and serums I put on my skin after performing the microdermabrasion seem to penetrate my skin better and my skin seems to absorb them better. It just seems like my skincare products are able to work more effectively when I use the microdermabrasion system.
I have not noticed a reduction in any age spots, but otherwise, the Neutrogena Microdermabrasion System has lived up to all of its promises and I will continue to use it.

| | |
| --- | --- |
| Softer, more luminous skin after first use | Yes |
| Increases skin firmness | Yes |
| Reduces look of lines and wrinkles | Yes |
| Minimizes age spots | No |
| Decreases pore size appearance | Yes |
| Delivers the same results as a microdermabrasion treatment from a dermatologist | Unable to validate |
Overall Pretty Proof Rating & Recommendation:


Rating: 4 out of 5 crowns
Pretty Proof gives Neutrogena Microdermabrasion System 4 crowns and recommends this product to anyone looking to fight the signs of aging with at-home treatments. Neutrogena does not recommend this product for those with Rosacea or pustular acne.
Have you ever used this product? Tell us about your experience.