If you know about NeriumAD then you know they are notorious for their clients' before and after photos. I appreciate before and after photos and take many of them myself when I'm testing new products. It is helpful when evaluating cosmetics and beauty products. But, should I buy a product based on photos of other people? If it worked for them, surely it will work for me? Right? Perhaps. Perhaps not.
Brand:
Nerium International
Product:
NeriumAD Age-Defying Treatment
Description: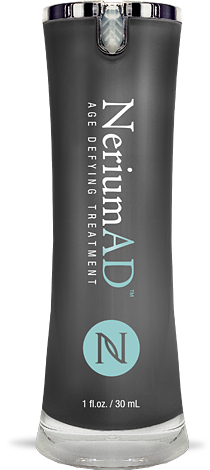 According to the Nerium International website and product literature, the NeriumAD Age-Defying Treatment is a night cream developed from the patent-pending extract of the Nerium Oleander plant. NeriumAD contains the most effective age-defying ingredients, chosen for both their individual and synergistic benefits. These premium ingredients are blended at optimum levels to nourish skin and provide real results. Nerium International claims to be the only company to ever harness the power of the Nerium oleander plant for high-performance skincare and NeriumAD treatment.
They claim NeriumAD dramatically reduces the appearance of: fine lines, wrinkles, discoloration, aging skin, enlarged pores, and uneven skin texture.
The product comes with a  30-day money-back guarantee.
Recommended Usage:
After cleansing your face thoroughly, immediately apply a thin layer of NeriumAD to face and neck. Nerium recommends using 4-5 pumps. Their research has shown that more is not always better. Apply to slightly damp skin for optimal absorption. The product will feel similar to a masque, so it is normal for your skin to feel a bit tighter than it would with a typical face cream. Rinse your face the morning following usage, and then apply moisturizer. If your skin is very dry, we recommend using a moisturizer more than once a day. It can even be used in conjunction with NeriumAD at night.
Nerium does not recommend using NeriumAD on the soft tissue area around your eye.
They also do not recommend using NeriumAD on skin with medical conditions such as acne, eczema, psoriasis, rosacea, or any other dermatologist-treated conditions.
Ingredients:
View the NeriumAD ingredients list.
Size/Cost:
1 fl oz – $110 (retail price) and $80 (preferred customer price)
Review:
Shortly after I started PrettyProof.com, a few people asked me if I had tried NeriumAD. I had never heard of this product. I didn't know anyone that used it, and I hadn't seen it in any of the department stores or at cosmetic retailers.
Curious, I did some research on NeriumAD and discovered that it is available through Nerium International's Independent Brand Partners. (Nerium International utilizes a multi-level marketing (MLM) strategy where the sales force is compensated not only for sales they personally generate, but also for the sales of the other salespeople that they recruit. MLM is also referred to as pyramid selling, network marketing, and referral marketing.)
Coincidentally, two Nerium Brand Partners contacted me about doing a review of NeriumAD on Pretty Proof. One of them was kind enough to send me a full size bottle of the product so that I could thoroughly test it before I did my review.
The first thing I want to point out about NeriumAD is that it is not a moisturizer. It is a treatment, similar to a masque. The instructions state to wear it overnight and rinse it off in the morning. The literature does not give an amount of time/hours to wear the product just that you are to wear it overnight.
The product literature also states that " it is normal for your skin to feel a bit tighter" and that you can use a moisturizer in conjunction with NeriumAD at night; however, to be sure any results that I experienced were from NeriumAD alone I did not use any moisturizer when I used this product at night. I only used a basic moisturizer during the day.
I am in my late 30s so I do not really have wrinkles, but I certainly have lines, especially on my forehead. I also have large pores on my nose and chin and age spots, courtesy of my tanning obsession throughout my 20s. I was hopeful that NeriumAD would help reduce these skin problems.
So I washed my face and even though my skin was still damp, I discovered that I needed to mix water with the 4 pumps of NeriumAD to really smooth it over my entire face except my eye area. The smell of the product is unpleasant, but I am not bothered by smells if a product works.
Within 60 seconds or less the product started to dry, and I could feel my skin tighten. I was concerned that my sensitive skin would be really irritated by morning. Normally, I do my best to keep it hydrated, especially at night. Yet here I was wearing a treatment overnight that was already drying my skin within just a few minutes. But, to my surprise, my skin was not irritated at all the next morning.
I continued to use the NeriumAD treatment every night until I finished the entire bottle.
Unfortunately, this product did not change the appearance of my forehead lines, age spots, or pores. Instead, I ended up with acne – lots of little pumps all over my forehead and the sides of my face. (See my before and after photos.) I cannot be certain that using the NeriumAD is what caused the acne, but what I am certain of is that using NeriumAD did not help the acne. The acne started to appear shortly after I began using the product and did not improve with use of the product.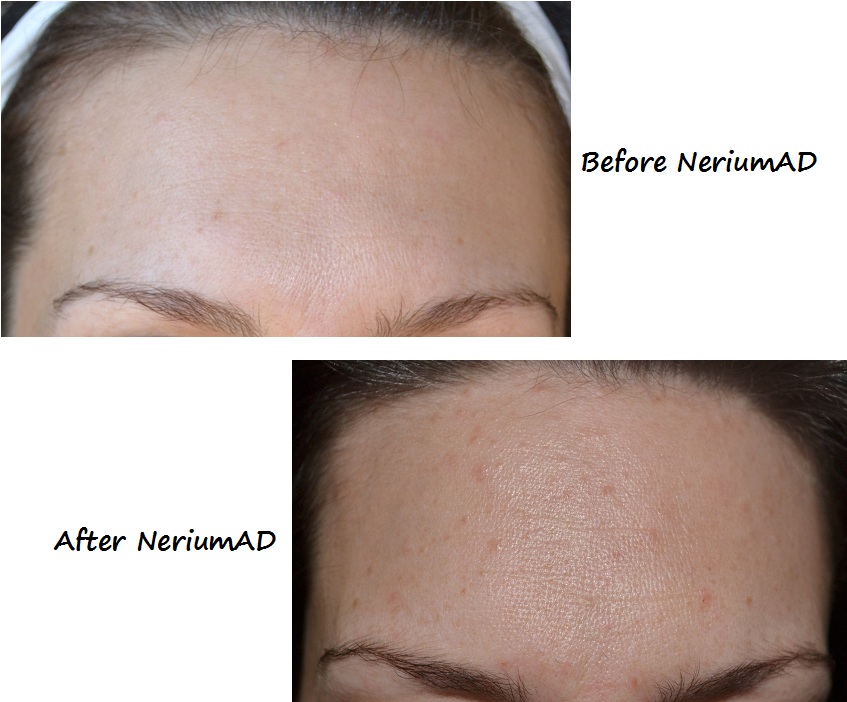 | | |
| --- | --- |
| Reduces appearance of fine lines | No |
| Reduces appearance of wrinkles | No |
| Reduces appearance of discoloration | No |
| Reduces appearance of aging skin | No |
| Reduces appearance of enlarged pores | No |
| Reduces appearance of uneven skin texture | No |
Overall Pretty Proof Rating:


Pretty Proof gives NeriumAD 1 out of 5 crowns based on the fact that the product did not live up to any of its claims.
*A sample of this product was provided to Pretty Proof as a PR consideration in exchange for an honest review of the product.
Have you ever used this product? Tell us about your experience.