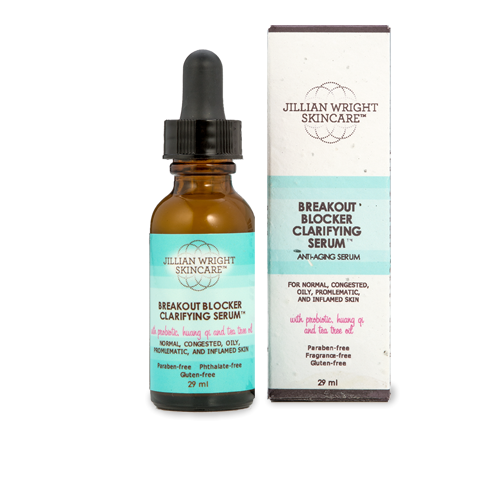 Description:
According to their website, Jillian Wright Skincare's Breakout Blocker Clarifying Serum is a non-irritating, non-drying and brightening all over facial clearing serum that helps to control bacteria and reduce redness without harmful medicated ingredients, yet acts similar to anti-inflammatory or antibacterial products. The package says this acne anti-aging serum is for problematic, congested, oily, normal, inflamed and acneic skin. It is paraben-free, fragrance free, and gluten free.
Ingredients:
Aqua (Water), Hamamelis Virginiana (Witch Hazel) Water, Lactobacillus Ferment, Alcohol Denat., Alcohol, Undecylenoyl Phenylalanine, Glycerin, Ethoxydiglycol, Planktonic Exopolysaccharide 5, Polygylceryl-4 Caprate, Gluconolactone, Xanthan Gum, Hydroxycinnamic Acid, Sodium Benzoate, Isopropyl Alcohol, Phytosphingosine, Dipropylene Gylcol, Astragalus Membranaceus Root Extract (Huang Qi), Phytic Acid, Lavandula Angustifolia (Lavender) Oil, Lecithin, Phenoxyethanol, Lysophosphatidic Acid, Lysolecithin, Pelargoium Graveolens (Geranium) Flower Oil, Melaleuca Alternifolia (Tea Tree) Leaf Oil, Citrus Aurantium Dulcis (Orange) Peel Oil* *Certified Organic Ingredient
Recommended Usage:
Shake well. Use day and/or night, after you cleanse or exfoliate and underneath or moisturizer.
Cost:
29 ml – $75.00
Review:
Despite my age, (I'm nearly 40.) I still have to deal with acne. My acne problems are fairly predictable though. They usually arrive once a month and tend to coincide with my 28 day cycle; therefore, I'm inclined to believe that most of my acne woes are hormone related. They usually show up around my hairline on my forehead and on my chest in the form of tiny white, pink, and/or red bumps. Occasionally, when I'm really stressed acne can strike at any time and anywhere on my face, chest, or back.
Fortunately for me, I didn't have acne during my teen years and the acne I experience now is not bad, but I still don't like it and I'm always doing my best to combat it. I wash my face twice daily, exfoliate once a week, and use products that help control my acne. (I've given up the idea that there's a product out there that will prevent me from getting acne because, as I stated above, I believe my acne is mainly due to internal factors, such as hormones and stress.) I'm always on the hunt for new products that help treat the acne that does come my way, which is why I was thrilled when Jillian Wright Skincare contacted me and asked me if I'd be willing to try and review their Breakout Blocker Clarifying Serum.
I didn't just try this product. I used the entire bottle of Breakout Blocker Clarifying Serum over about a six week period. As you may have guessed, I really liked it down to the last drop. Did it make all my acne disappear? No, but it did do what it claimed, and my monthly acne was not as bad as it normally is with use of this serum. I used the Breakout Blocker Clarifying Serum twice a day, as directed. At night I used it under my moisturizer. I used it during the day as well. On the days that were predicted to be especially hot and humid, I didn't use any additional moisturizer. I only used the serum. Since it is non-drying and my skin tends to get oily on really hot days, the serum was all I needed. (If I was going to be out in the sun I did put on a sunscreen, since the serum does not contain any SPF.)
I have sensitive skin and this product did not cause any irritation.
The Breakout Blocker Clarifying Serum felt very good on my skin, making it look brighter and more youthful. I put the serum on all of my pink and red blemishes. It did not make the redness disappear, but it did seem to diminish the redness.  

| | |
| --- | --- |
| Non-irritating | Yes |
| Non-drying | Yes |
| Brightens Skin | Yes |
| Helps Control Bacteria | Yes |
| Helps Reduce Redness | Yes |
Overall Pretty Proof Rating:


Pretty Proof gives Jillian Wright Skincare's Breakout Blocker Clarifying Serum 5 out of 5 stars because this serum does all that it claims. Pretty Proof recommends it to anyone looking to reduce and control acne without the use of harsh chemicals.