The Dead Sea is one of the saltiest lakes in the world. Compared to the 3% salt content of ordinary sea water, Dead Sea water contains 32% salts with relatively high concentration of minerals such as magnesium, calcium, bromide and potassium. Medical studies have shown that Dead Sea Minerals are effective in treating psoriasis, acne, rheumatism and eczema. Dead Sea minerals are known to cure skin disorders through strengthening the skin tissues, maintaining the chemical balance of the skin, stimulating blood circulation and eliminating toxins from the skin.
Brand:
Dead Sea Spa Care
Product:
Dead Sea Dry Salt Scrub
Description: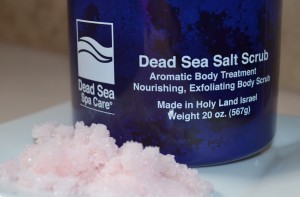 The Dead Sea Dry Salt Scrub is formulated with Dead Sea Minerals to exfoliate and refresh your skin. Dead Sea Dry Salt Scrubs are very dry and absorb essential oils with ease, which enables them to be released upon use as they dissolve with water. Dead Sea Spa Care uses Sweet Almond Oil, Vitamin E, Grape Seed Oil, Avocado Oil and Sesame Seed Oil mixed in with its Dead Sea Dry Salt Scrub to infuse the skin with much needed Dead Sea minerals and nutrients, while exfoliating the top layer of dead skin cells, revealing fresher, younger looking skin. The Dead Sea Spa Care Dry Salt Scrub will not only exfoliate and hydrate your skin, but will leave your skin with a youthful glow. Because it is a Dead Sea Dry Salt Scrub, it will moisturize your skin, but will not leave your skin oily. With a good, vigorous scrub, our salt scrub will help increase circulation throughout the body. The Dead Sea Spa Care Dry Salt Scrub is made in Israel and comes in a variety of scents including: Almond, Pomegranate, Ocean Therapy, Cucumber/Melon, & Raspberry.
The oil from the salt scrub will remain on your skin, leaving it smooth and moisturized. Rubbing your skin with the Dead Sea Dry Salt Scrub exfoliates and polishes the skin leaving it clean and refreshed. It will rub away any dead skin cells that have the effect of leaving your skin dull. The fine Dead Sea Dry Salt Scrub grains cleanse every pore allowing your skin to breathe easier, allowing skin to regenerate.
Recommended Usage:
Apply the Dead Sea Dry Salt Scrub all over your body, especially dry areas such as heels, elbows and feet. Gently massage into your skin, rinse and pat dry. Please use caution when using oil based products, surfaces may become slippery.
Ingredients:
Dead Sea Salts, Parrafin Liquidum, Isopropyl Myistate, Prunus Amygdalus Dulcis (Sweet Almond) Oil, Tocopheryl Acetate (Vitamin E), Vitis Vinifera (Grape) Seed Oil, Persea Gratissima (Avocado) Oil, Sesamum Indicum (Sesame) Seed Oil, Fragrance, Phenoxyethanol (and) Methylparaben (and) Ethylparaben, (and) Butylparaben (and) Propylparaben, BHT. May contain Red 17, Green 6, Violet 2, Blue 1, Yellow 5.
Size/Cost:
20 oz – $40.00
Review:
I suffer from dry skin, eczema, and the need to be pampered. The Dead Sea Spa Care Dry Salt Scrub helped me with all three of these problems. I used it in the shower several times a week. The Dead Sea Salt Scrub was an excellent exfoliator and moisturizer, with an ever so light, sweet raspberry scent. I used the scrub on my legs prior to shaving. After exfoliating with the salt scrub and shaving, my legs felt silky and smooth.
The oils in the salt scrub moisturized my skin so well that on the days that I used it in the shower I did not need to use lotion. So it was a time saver for me too!
When I began using the Dead Sea Salt Scrub, I noticed the eczema on my hands, arms, and legs looked much better. The eczema on my legs is actually completely gone now. What am I going to do once this jar runs out? Get my hands on another one as fast as I can!

| | |
| --- | --- |
| Exfoliates the skin | Yes |
| Contains numerous beneficial minerals from the Dead Sea | Yes |
| Leaves skin hydrated and moisturized | Yes |
Overall Pretty Proof Rating:


Pretty Proof gives Dead Sea Spa Care Dead Sea Dry Salt Scrub a 5 out of 5 crown rating and recommends it to anyone who suffers from dry skin and wants to give their skin some TLC.
Have you ever used this product? Tell us about your experience.