Why I wanted to try Botox
I turned 40 last year, and I swear my skin aged more in the last 6 months than it had in the 5 years prior to that. All of a sudden I felt like every line and wrinkle had become more and more pronounced. I'm not sure if it was hormonal changes or stress or if my skin was just tired.
Unfortunately, the creams and serums I had tried didn't make a difference. Sure these products made my skin feel good, but the lines were still there.
When it comes to growing old and aging I've decided I'm not going down without a good fight. So I decided to look into Botox.
Botox is used to treat a number of medical conditions, including migraine headaches, hyperhidrosis (excessive sweating), and blepharospasm (uncontrolled muscle contraction or twitch of the eyelid). In 2002 the FDA approved Botox Cosmetic for the temporary improvement of glabellar lines (wrinkles between the eyebrows, known as frown lines). Botox works by preventing muscles from tightening so wrinkles are less prominent.
I saw plenty of dramatic before and after photos at the dermatologist's office and heard rave reviews from friends who tried it. Now it was my turn to give this injection a try.
I didn't want to go over board, especially since this was my first time and I had no idea how my body would react. Plus I didn't want to end up with spiked eyebrows or not being able to show any facial expressions. Therefore, I decided to do the minimal amount and just focus on one area that was really bothering me right between the eyes.
The Injections
Botox is sold by the unit. I purchased 15 units and received three injections of five units each in the area between my eyes, as depicted below.
The doctor that injected me actually recommended that I purchase 45 units in order to treat my entire forehead, but Botox is expensive and I wanted to see how it worked before I invested more money in this temporary treatment.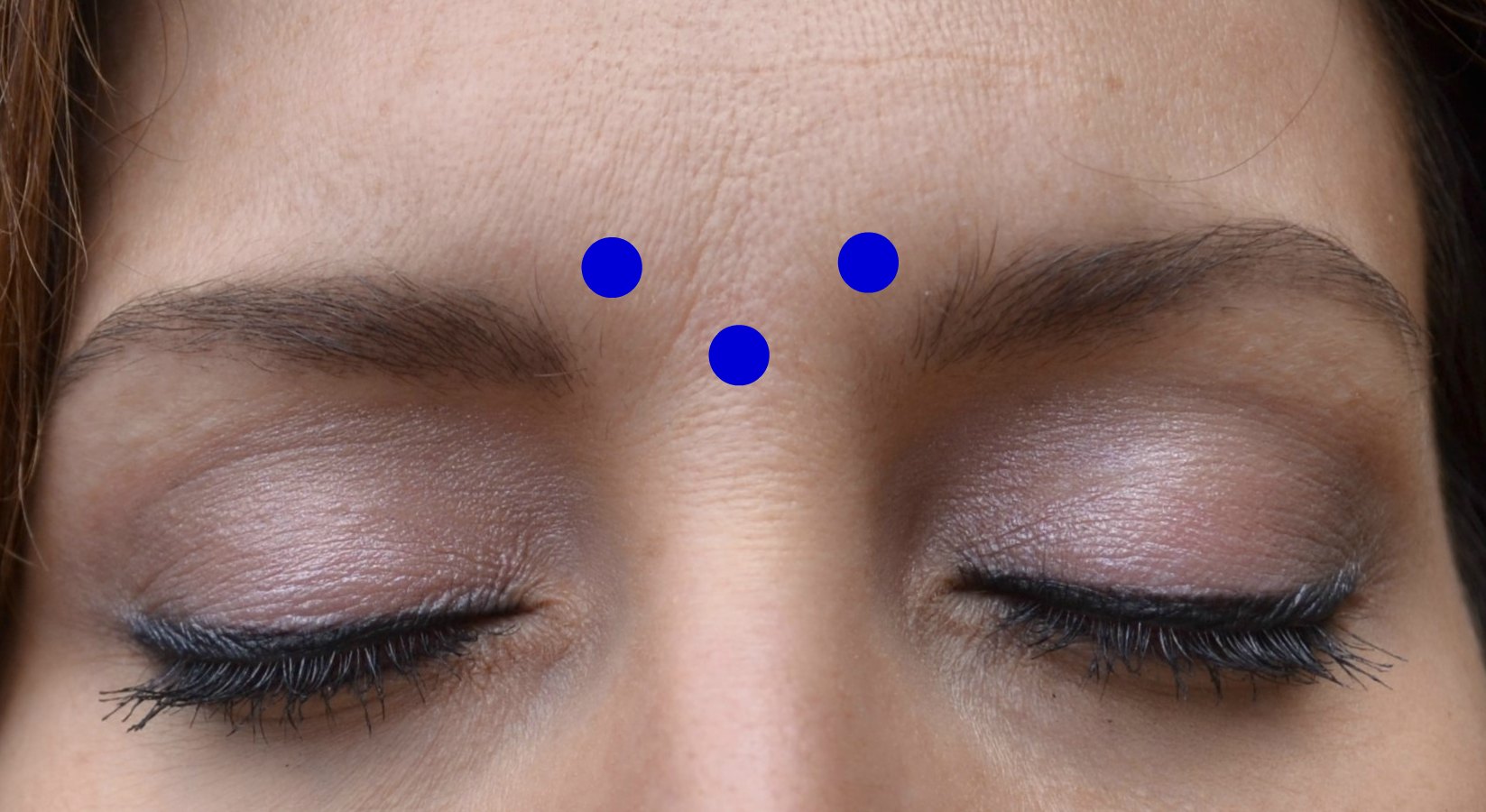 The injections themselves were quick, and I only felt a tiny prick for a second in each area. I didn't experience any bruising or swelling.
The doctor explained to me that it would take approximately three days for the Botox to take effect. I had the injections on a Thursday and by Monday I was no longer able to squeeze my eyebrows together. From that Monday on I could see a difference in the depth of my frown lines (glabellar lines).
In the after photo below I'm trying as hard as I can to squeeze my eyebrows together and I'm unable to do it.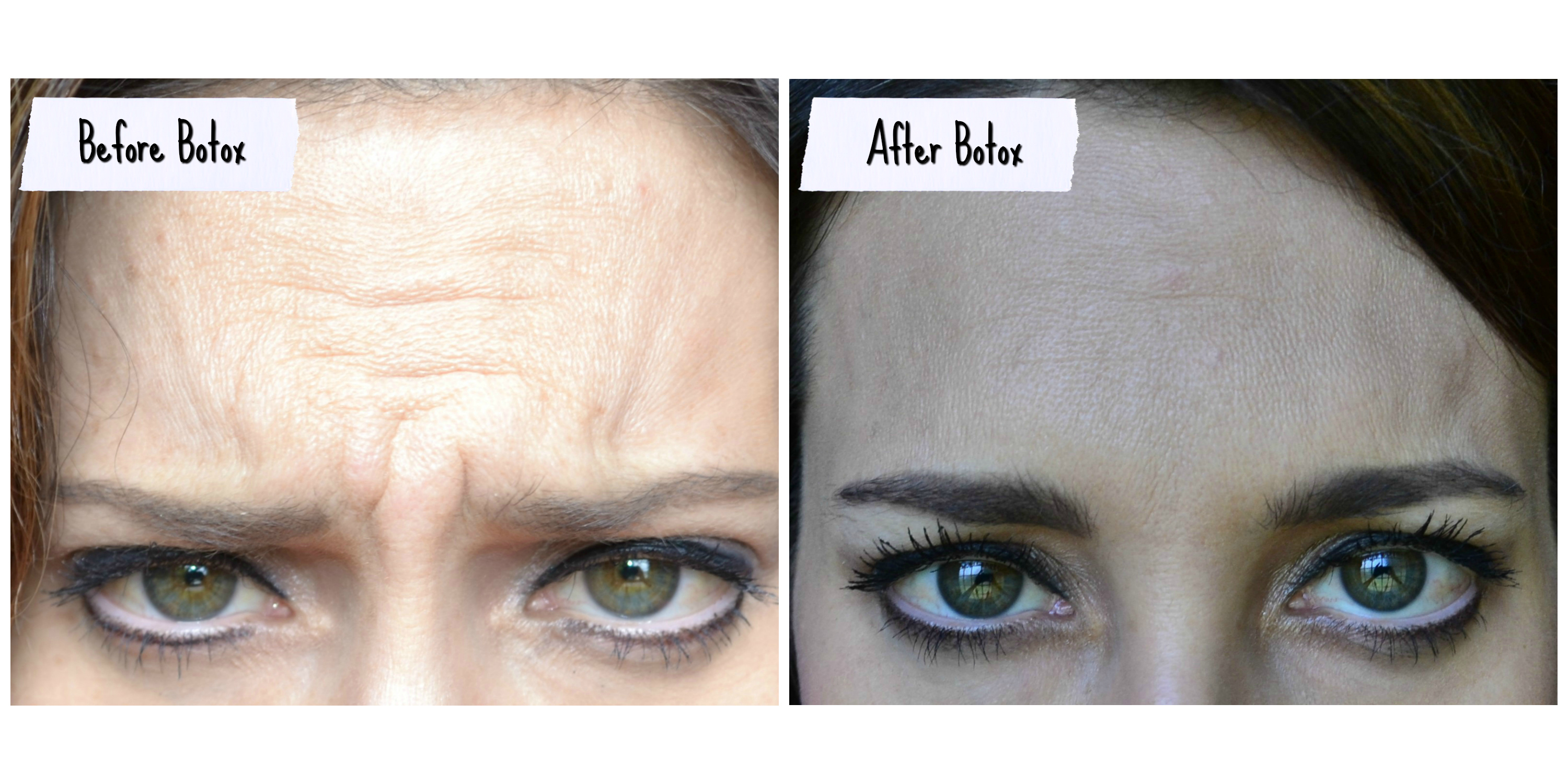 The Results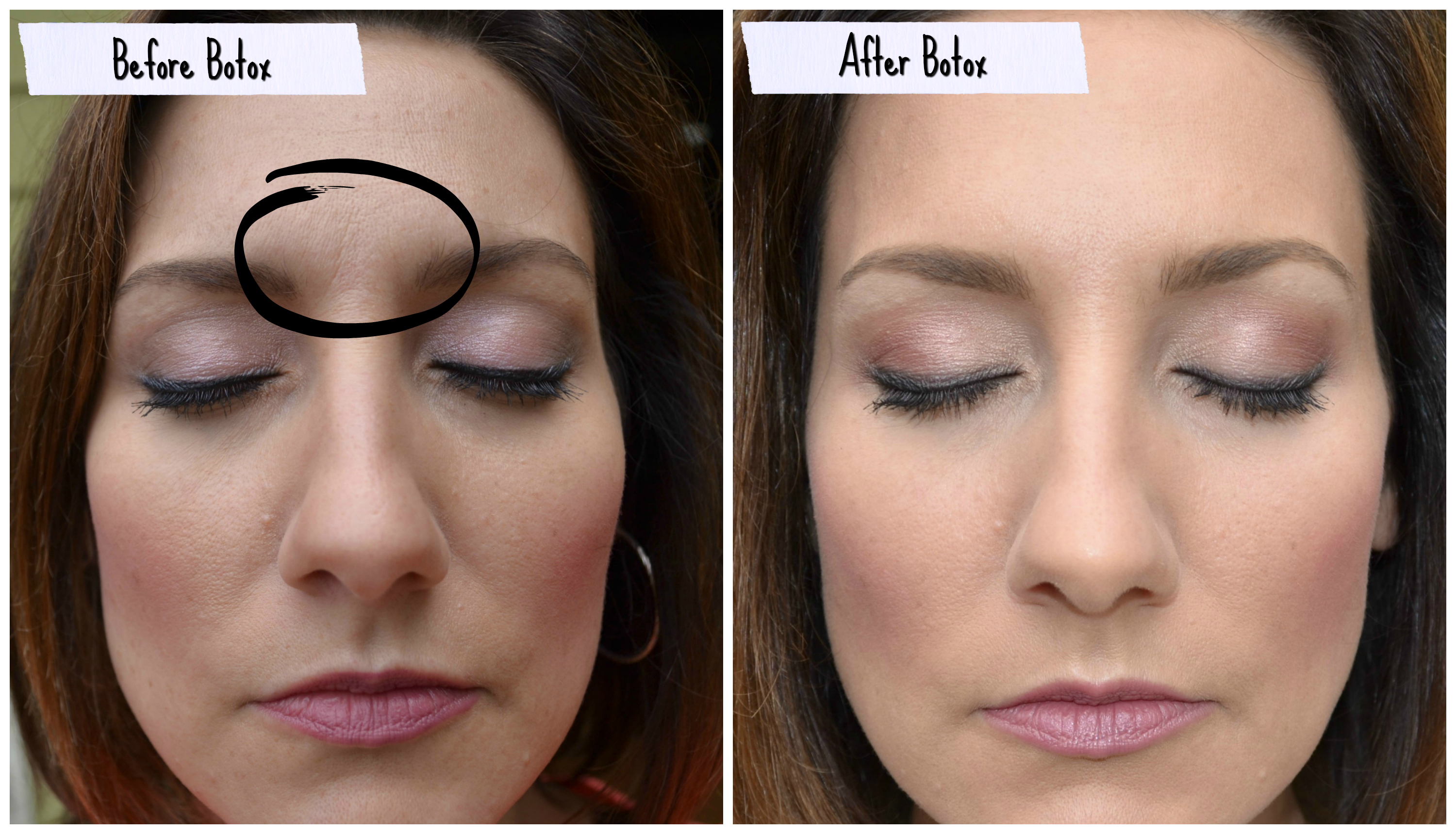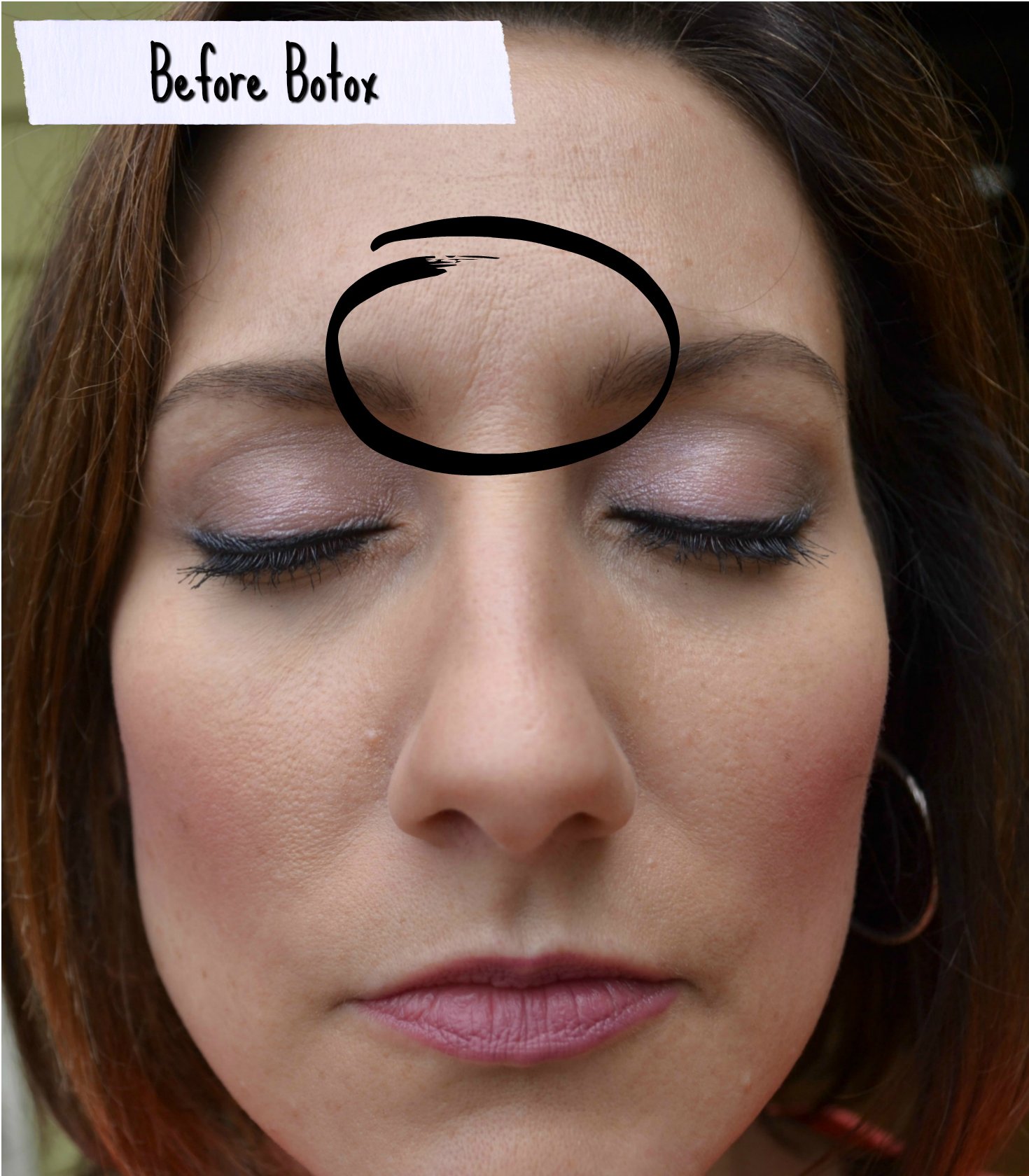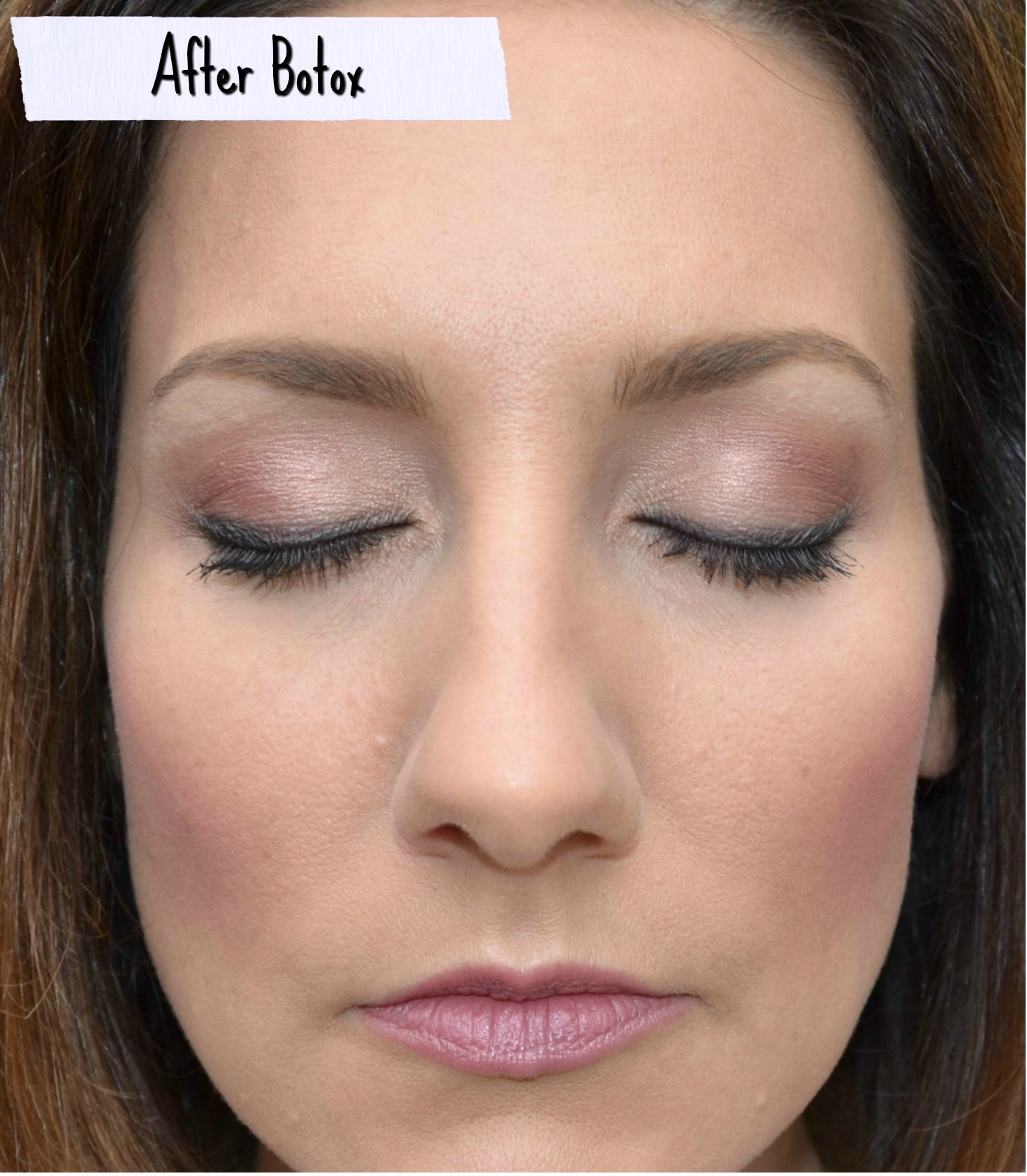 Pros & Cons of Botox
Cons:
It is expensive.
The results are temporary and usually only last between three and four months.
There are risks. Botox can cause serious side effects and some of them can be life threatening.
If it is not done properly this treatment can leave you looking unnatural.
Pros:
It works! The wrinkled area that I wanted to treat was less noticeable and considerably smoother after using Botox.
In conclusion
After trying Botox, I completely understand why it is so popular for treating wrinkles and crow's feet. I will definitely do it again. However, the cost will limit the frequency and quantity for me.