Love beauty samples? Like trying new products? If you answered yes, then let me introduce you to the world of online subscription clubs. Many different beauty and lifestyle clubs exist. Some are geared toward specific products, such as shaving, nail art, or hair care. Others provide a variety of products spanning from cosmetics to skin care to hair and nail care. I currently subscribe to Birchbox.
Every month, Birchbox subscribers receive a curated box of five beauty, grooming, and/or lifestyle samples. Subscribers can personalize their boxes by completing a beauty or grooming profile. This helps Birchbox provide samples best suited for each subscriber's preferences and style.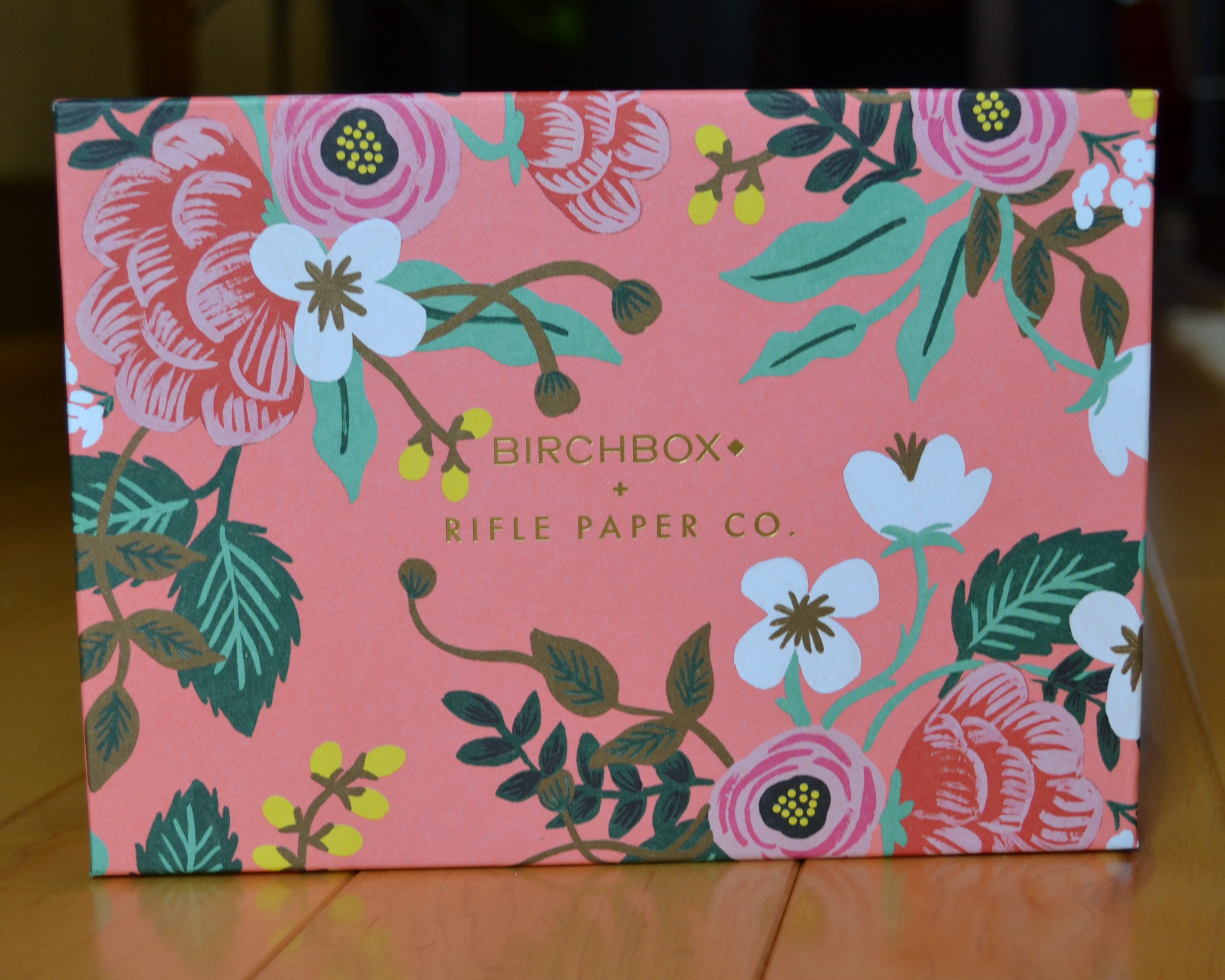 Birchbox April Contents Description:
Beauty Protector Protect & Oil
This hair oil defends against UV rays, heat, and breakage.
Number 4™ Volumizing Shampoo
This sulfate-free, botanical-rich cleanser helps create bouncy, bodacious hair.
POP Beauty Peach Parfait Eye Shadow Trio
With three pretty pastel shades, this satiny shadow is spring to go.
Real Chemistry Luminous 3-Minute Peel
This acid-free peel gently exfoliates for instantly softer, smoother, brighter skin.

Whish Shave Crave Shaving Cream in Blueberry
A she butter-packed shaving cream with a delectable scent.
Cost:
Five products for $10/month (which includes shipping)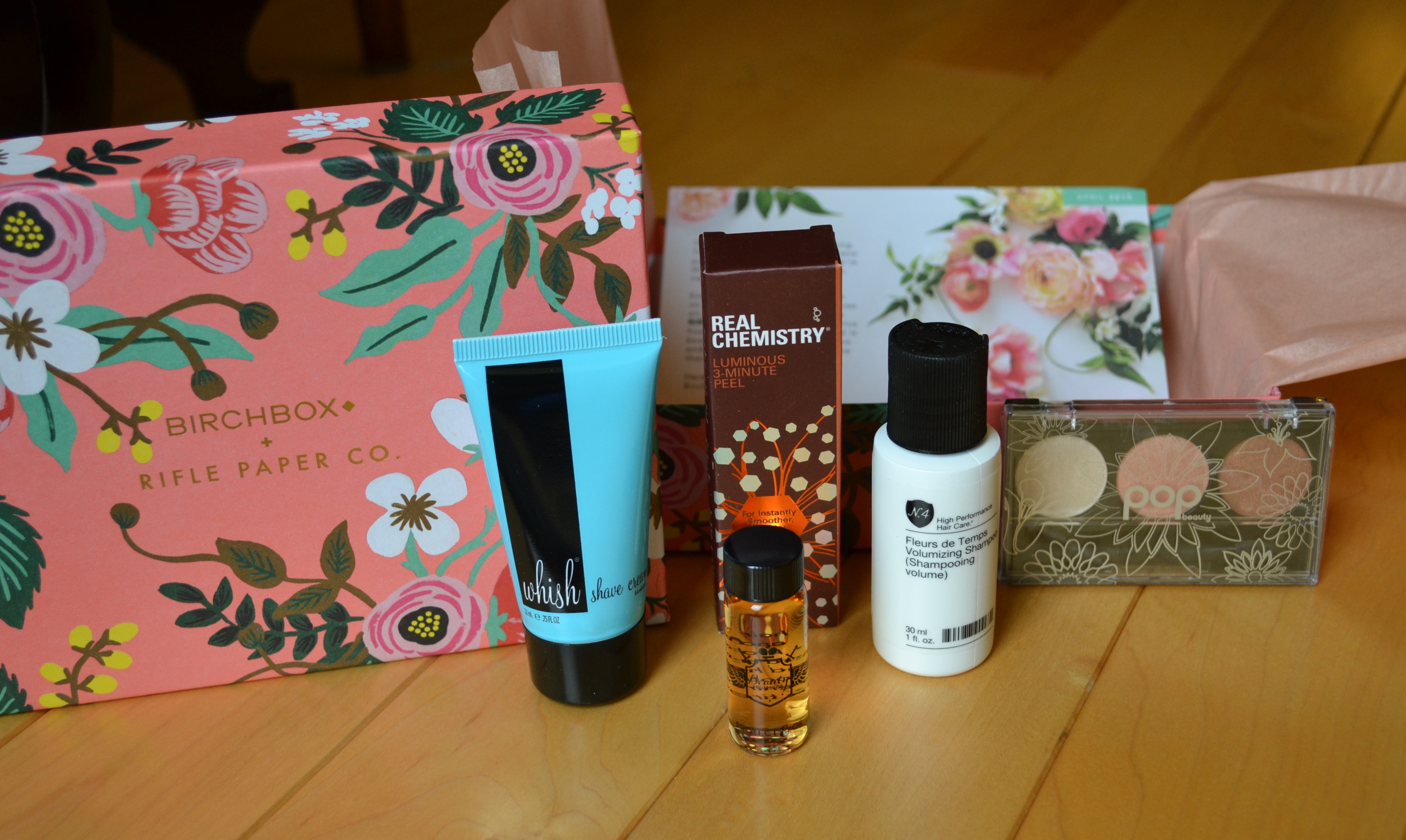 Review:
Every month I look forward to the arrival of my monthly Birchbox in the mail. Each box is different, and I never know what I'm going to get month to month. Some boxes are more to my liking than others, but through this service I've been able to experience products that I probably would have never found on my own. April's Birchbox is no exception.
Real Chemistry, Number 4™, and Beauty Protector are brands that I have not used before. I'm always up for trying a new peel and shampoo. I'm not as thrilled about the hair protecting oil because oil products that I've used in the past have been too heavy for my fine hair and made it look greasy; however, I'll still try this one at least once to see how it works.
I'm familiar with Whish shave products and have received samples of this brand in past Birchboxes, but a girl can always use more shaving cream. Not to mention, this is the perfect size to toss in my travel bag this summer.
My favorite item in this box is the Pop Beauty eye shadow! (The makeup samples are almost always my favorite items each month.) I have seen this brand before, but have never purchased it. So this is an opportunity to experience a new brand and new colors. How fun! The tone of these eye shadows is a bit warm for me, but I'll still give them a try to get a feel for how well the shadow wears and to see if I have any type of allergic reaction to this brand.
Overall Pretty Proof Rating:


Pretty Proof gives Birchbox a 4 out of 5 crowns rating. For $10/month it is a great way to sample new products and discover brands that you may not find at your local department store and drug store. Some boxes and products may be more to your liking than others, but you always have the option to unsubscribe.
Are you a Birchbox subscriber? Tell us about your experience.