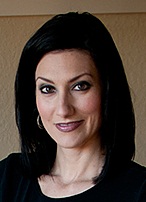 My name is Heidi. I am a 39 year old wife, stay-at-home-mom, and former marketing executive. I have loved skin care and beauty products my whole life. I couldn't wait until I was old enough to wear makeup to school. (I started wearing it in 7th grade against my father's wishes.) I wear makeup every day even if I don't leave the house.  I tried my first anti-aging product when I was 18 and have sworn that I will do all that I can to prevent any wrinkle or line possible!
Prior to having my daughter and leaving my corporate career behind, I had an unlimited beauty budget. But, now that my household is down to one income, I have to be more frugal with my skin care and beauty spending. That doesn't mean I'm not willing to invest in an expensive product if it really works. That just means that I need to do my research before I spend any money. During my research, the idea of Pretty Proof was born. Why not share my experiences online.
I'm nearly 40 and have come to realize that today is the youngest that I will ever be again. The same is true of my skin. Wrinkles, fine lines, and age spots are starting to appear! This is my worst nightmare – growing old! Actually, I don't mind growing old because with age comes wisdom. I just don't want to look old. There are thousands of skin care products on the market that claim to turn back the hands of time and prevent further signs of aging, but do they work? Do they keep their promises made in the advertising and packaging?
I believe, if a product works as it claims, the pretty proof is in the mirror.
So which products perform as advertised? Let's find out! Join me on my quest to validate which skin care and beauty products live up to their promises so we can look as young as possible and know which products are worth the investment and which products are wastes of money.
The Pretty Proof Rating System
I rate products on a 5 crown system.